Age Verification Technology
Age verification vending machines use age verification technology to confirm the age of the purchaser. This technology can be implemented through facial recognition, ID scanning, or other forms of identity verification. This technology can effectively limit the purchase of vape by minors, thus protecting the health of young people.
Real-name authentication
Age verification vending machines can require purchasers to undergo real-name authentication, verifying the purchaser's real identity and increasing the barrier to purchasing CBD, thereby effectively reducing the purchase of CBD by minors.
Intelligent facial recognition
Age Verification vending machines can use intelligent facial recognition technology to achieve fast and accurate age verification, preventing minors from purchasing vapes.
Real-time update
Age verification vending machines can remotely update vending machine information in real-time through the Reyeah E-vend cloud management system, such as changing the age limit and updating the age database to ensure timeliness and accuracy.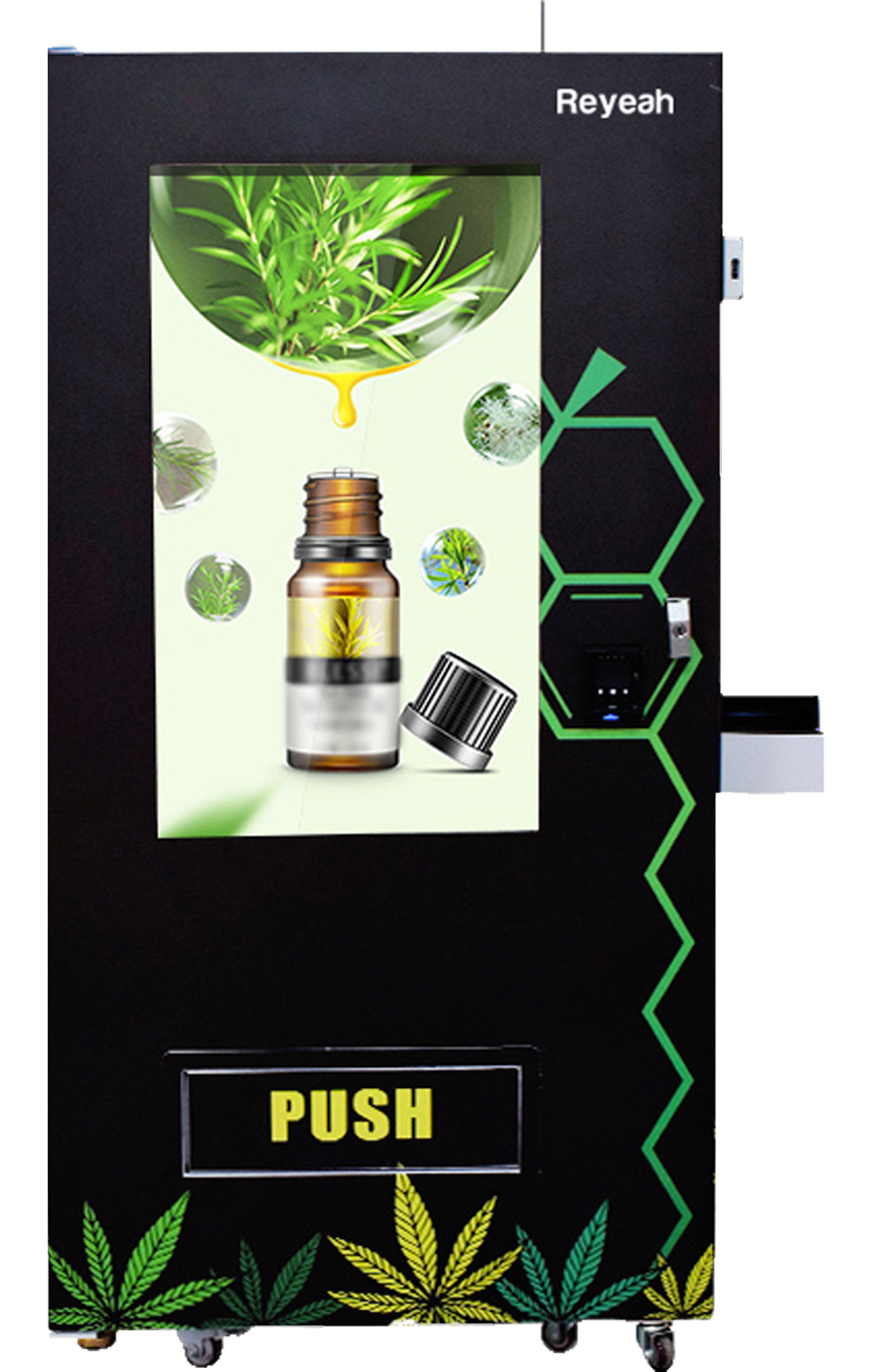 Why choose Reyeah vending machine?
Our company has permanently attached great importance to research and development, with an experienced and technically strong R&D team. We constantly introduce advanced technologies and launch high-quality, high-performance products. Our R&D team has a complete research and development process, covering all aspects from requirement investigation, product design, hardware development, and software programming, to testing and verification. Throughout the R&D process, we emphasize in-depth collaboration and communication with domestic and foreign technical experts and industry leaders, gathering wisdom and resources from all parties, to provide solid technical support and assurance for our products.
Our age verification vending machine uses the latest technology to support two verification methods: scan code verification and external device verification. Our R&D team is experienced and possesses technical solid capabilities, continuously innovating and developing more efficient, secure, and intelligent age verification vending machines. In the vending machine industry, our company's R&D capabilities have always been at the forefront. Our age verification vending machine employs advanced artificial intelligence technology, accurately verifying the user's age while protecting their privacy from intrusion. Additionally, our vending machine equipment with Reyeah E-vend management system assists customers in efficiently managing their vending machines.
11+ Years Industry Experience
100+ Core Technology Patents
200+ Countries Payment System
Annual Production Capacity